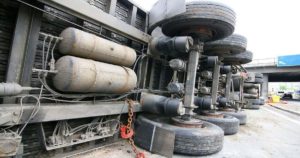 The multiple construction projects and work zones on Interstate 65 and I-70 in and around Indianapolis mean that drivers face the probability of encountering numerous traffic bottlenecks and truck accidents in work zones over the next year or more. A national database says each year there are about 700 fatal work zone accidents nationally and about 25 in Indiana. Tractor-trailers and semis are overrepresented in work zone accidents. About 45% of fatal construction zone accidents in Indiana involve large commercial trucks.
You should know what to do after a construction zone truck accident. After seeking medical treatment for your injuries, you should consult with a knowledgeable truck accident attorney to understand the options available to you.
At Craig, Kelley & Faultless LLC, our truck accident lawyers have extensive experience representing people who have been injured in large truck crashes. Indiana truck accident attorney David W. Craig has represented hundreds of clients from Indianapolis, Batesville, Richmond, Fort Wayne, and throughout Indiana who was badly injured and deserved compensation to rebuild their lives after commercial vehicle accidents.
If you or a loved one has been injured in a truck accident in a construction zone in Indiana, contact Craig, Kelley & Faultless for assistance. During the free case consultation, an attorney will review your accident and injuries and whether you have a valid claim for compensation.
Steps to Take After a Construction Zone Truck Accident in Indiana
When a crash occurs in a highway construction zone, the work area can become a chaotic scene.
Who May Be Involved In A large Truck Accident In A Work Zone
vehicle drivers
the road construction workers on the scene, some of whom may have also been injured
law enforcement
other emergency responders
Instead of just police and an ambulance, emergency responders to a work zone truck accident may include fire and hazmat teams. The truck in the accident may have been a fuel tanker or a regular truck which have spilled toxic or flammable cargo that could cause a disaster.
In a catastrophic accident, multiple agencies will send police, fire, and EMT units. Representatives from the trucking company and the construction company may be dispatched to protect their interests.
Meanwhile, you are injured and potentially at the mercy of businesses more concerned about protecting their financial interests than paying for your medical care needs. You will need the help of an experienced personal injury attorney to look out for your interests after a work zone accident.
The Three Most Important Steps to Take After Being Injured in a Truck Accident in a Construction Zone
Put your interests first.
Get medical care.
Get what has happened to you on the record.
Get photos or have someone photograph or video damage to your car and your injuries and as much of the accident scene as possible.
Save records, receipts, everything about the accident and your injuries.
Request a copy of the police report.
Be careful about what you say.
If there is a legal claim over a truck accident, anything that you say may be used against you.
Do not accept blame for the accident or blame anyone else.
Do not downplay your injuries.
Cooperate with police, fire, and emergency medical care personnel.
You don't have to answer anyone else's questions.
If you are questioned by police, answer with the facts as you know them. If you can't recall or are unsure, it is absolutely OK to say you do not know.
Do not discuss the accident or your injuries on social media. Casual comments on social media can be used to undermine your injury claim.
Contact a truck accident attorney.
With the multiple parties and insurance companies likely involved in a serious construction zone truck accident, you will need to have an attorney looking out for you. No one else involved in the crash will have your interests as their primary reason for being involved.
Talking with an attorney can provide some insight into your legal options and whether you have a legitimate truck accident injury claim.
An attorney can deal with the insurance companies on your behalf.
Your attorney from Craig, Kelley & Faultless can negotiate on your behalf. Our law firm won't charge a legal fee unless we recover money for you.
Let Us Sort Out the Liability Issues in a Construction Zone Truck Accident
After a serious truck accident in a highway construction zone, there may be multiple parties eventually found responsible for the crash. You may file claims for compensation against several parties.
Potential Defendants in Construction Work Zone Truck Accident Claims
Truck driver
Trucking company responsible for the negligent trucker or malfunctioning truck
Other passenger car drivers
Construction contractors, if the work zone design or activity contributed to the accident
Local or state government responsible for negligent construction contractors
Cargo loaders, if a cargo shift or spill contributed to the accident
Cargo owner responsible for negligent cargo loaders
Truck maintenance garage, if a malfunction on the truck caused the accident
Manufacturers or suppliers of faulty truck parts or systems
You will be better off if you have an experienced attorney to investigate independently, handle the truck accident claims, and offer guidance about whether settlement offers are reasonable.
Recovering Damages in a Construction Zone Truck Accident
To recover compensation after a truck accident, you have to prove who was responsible for the truck accident and your injuries. You must establish what compensation you are owed. If you leave it up to an insurance company to dictate the terms of a truck accident settlement, you will certainly be shortchanged, if you get anything at all.
Damages for a Personal Injury Claim After a Truck Accident in Indiana
Medical expenses
Lost income
Property damage
Physical pain and suffering
Emotional distress
Loss of consortium
Punitive damages (in certain cases)
Our legal team can calculate your recoverable costs and losses, including projections for future medical expenses and lost income if you suffered disabling injuries. We will present our evidence-backed demands to the responsible insurance companies and follow up with aggressive negotiations. If an insurance company refuses to agree to a fair settlement, we would be prepared to seek justice in court.
Seek Legal Help for Your Indiana Construction Work Zone Truck Accident Injuries
Don't try to deal with the multiple parties involved with a construction zone truck accident on your own if you've been seriously injured. Get help from an experienced Indiana law firm that has successfully represented victims of commercial truck accidents and has the resources to determine who is responsible for your injuries.
Contact Craig, Kelley & Faultless now online or at (888) 937-3862 for your free legal consultation. Remember, we don't charge a fee unless we recover compensation for you.

Since 1999 the Indianapolis legal team at Craig, Kelley & Faultless, LLC have been dedicated to helping individuals and their families who have been injured or have lost a loved one as the result of someone's carelessness. The firm was founded by three attorneys, David Craig, William 'BJ' Kelley II and Scott Faultless, since then they have added attorneys and legal professionals to the team and opened four additional office locations to better serve their clients.