Truck I-70 Highway Accident Attorney in Indiana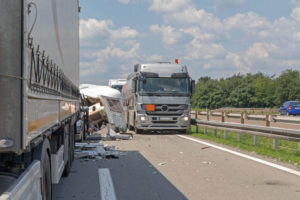 The project to repave and expand about 20 miles of Interstate 70 between Mount Comfort Road to S.R. 9 should eventually improve travel and reduce accidents between Indianapolis and Greenfield. But during construction, the road work creates hazards conducive to commercial truck accidents. The eastbound I-70 / Mt. Comfort Road area has already seen truck crashes, including one involving multiple semi-trucks, an explosion and a large fire.
Construction zones on I-70 require drivers to slow down and be attentive to lane shifts, reduced speed limits, traffic mergers and other potential hazards. Drivers of tractor-trailers, semis and other large commercial trucks often cause crashes by failing to lower their speed enough to anticipate slowing traffic and traffic bottlenecks in a work zone. Our truck accident lawyers at Craig, Kelley & Faultless in Indianapolis have extensive experience successfully representing people injured in commercial motor vehicle accidents.
Indianapolis-area residents should keep Craig, Kelley & Faultless in mind if they find themselves in an accident caused by a large truck in an I-70 construction zone. Attorney David W. Craig has pursued hundreds of truck accidents on behalf of injured clients from Indianapolis, Batesville, Richmond, Fort Wayne and throughout Indiana. If a negligent truck driver or another party was responsible for the accident that caused your injuries, we can help you seek full compensation for your losses.
Contact us online or call (800) 746-0226 to schedule a free consultation about your work zone accident and injuries and how we can help you. We have offices in Indianapolis and four other locations.
What to Expect from I-70 Project Work Zones Around Indianapolis
A highway construction zone should safely control traffic as it moves through a designated work area. The work zone must be configured to direct the flow of traffic and keep it separate from workers, equipment and construction materials. When designed correctly, a highway construction zone has four sections:
Advance warning area, where signs and/or flaggers alert drivers that a construction zone is ahead and that drivers should prepare to slow down and/or merge
Transition area, in which barriers, signs and channeling devices direct traffic approaching the work site
Work activity area, which includes traffic lanes and the protected workspace occupied by workers and road construction equipment
Termination area, where traffic increases speed and returns to its regular route.
In some construction zones, flaggers or lead vehicles control the start, stop and flow of traffic through the work area.
Highway construction zones are dangerous because closed or narrowed traffic lanes and temporary routes create confusion, bottlenecks and traffic slow-downs.
The placement and configuration of highway work zones will change during the progress of a months-long road construction project like the I-70 expansion. This requires all drivers to remain alert and to cooperate with signage, flaggers and traffic conditions to ensure safety.
Understanding Road Construction and Truck Accidents
The National Work Zone Safety Information Clearinghouse says that, across the country, there were 762 fatal crashes in construction zones in 2019. A third of the fatal work zone crashes involved commercial trucks. Fatal truck accidents in construction zones caused 247 deaths a year on average from 2016-2018. Among those killed were 135 construction workers and 133 pedestrians.
The Clearinghouse, which is operated in cooperation with the U.S. Federal Highway Administration and Texas A&M Transportation Institute, says there were 25 fatal crashes in work zones in Indiana in 2019, including 11 involving trucks (44%). These crashes caused 16 fatalities, including three construction workers and three pedestrians.
Truck accidents can happen in highway work zones if a truck driver does not reduce speed enough to travel through the work zone safely. Trucks require more room to slow down than passenger cars and large trucks have higher centers of gravity. Large trucks are more likely to sway or rock due to quick lane shifts or uneven pavement, such as crossover slopes in a construction zone. Shifting cargo on a truck, particularly liquid loads carried by tanker trucks, can change the vehicle's center of gravity suddenly and cause the driver to lose control of a big rig.
A truck that is going too fast for construction zone traffic or a trucker who is distracted or impaired can cause a preventable accident in a highway work zone.
Trucks get into construction zone accidents because of:
Speeding. If a truck is speeding, it may be unable to slow or come to a stop as it approaches stopped traffic in a construction zone. On a dry, level road, a large truck going 55 mph needs almost 50% more room to stop than a passenger car requires. Wet or icy conditions in winter make stopping even more difficult.
Inattention / Distracted Driving. Truck drivers can be distracted by cellphones, passengers, mapping apps, food and drink, or boredom. When a truck is traveling 60 mph, it covers 88 feet (almost 30 yards) per second. A few seconds of inattention or delay in recognizing the need to brake for slowed traffic or a work zone can cause a crash.
Tailgating. Most rear-end collisions are caused by a driver following another vehicle too closely. Tailgating is particularly dangerous in work zones in which drivers may brake unexpectedly due to sudden lane shifts or stopped traffic ahead. Some negligent truckers follow too closely without thinking about it and some reckless truck drivers tailgate to intimidate drivers ahead of them into increasing their speed.
Fatigue. Truck drivers often work long hours. Despite federal Hours of Service (HOS) regulations that limit the time a trucker may spend behind the wheel without a break, driver fatigue is often cited in truck accidents. A fatigued driver is slower to recognize and react to changing traffic situations in a work zone.
Late Merging. A tractor-trailer has blind spots on all sides. The blind spots can make it more difficult to merge safely with other vehicles. Truckers who don't anticipate lane closures and merge well ahead of the closure can get into collisions when they and other drivers seek position in merging traffic.
Sometimes, improper design of a highway work zone contributes to a truck accident. The U.S. Department of Transportation's "Manual on Uniform Traffic Control Devices (MUTCD)" addresses temporary traffic control measures and work zones and is well-known in the industry for defining national standards.
Our Indianapolis Attorneys Can Help After A Work Zone On a Highway Truck Accident
If you or a loved one has been injured in a collision that involved a commercial truck in a highway work zone, you should speak to a personal injury lawyer experienced with truck accidents. Craig, Kelley & Faultless LLC is focused on the potential hazards caused by the I-70 and I-65 construction projects in Indianapolis. Our tractor-trailer truck attorneys are prepared to assess your injury case promptly.
Our emergency response team includes our lead attorneys David W. Craig and Scott A. Faultless, a private investigator, a mechanical expert, an expert qualified to download the commercial truck's black box data recorder and an accident reconstruction specialist.
It is important to contact us promptly. Work zones can be re-configured and evidence lost without notice after an accident. When notified promptly, our 18-wheeler accident attorneys can move to ensure that our investigators are given access to the accident site, the damaged truck and a variety of logs and records pertaining to the truck and the truck driver's activities.
There may be multiple contributing factors to a truck accident, such as a combination of excessive speed, fatigue, distraction and a mechanical issue if the truck has not been serviced properly. The truck driver, the trucking company and/or third-party service vendors may be at fault. If a faulty work zone contributed to the accident, the contractor and the local government responsible for the roadway may be held liable. It is not unusual to file multiple claims in a truck accident case.
In addition to identifying those financially responsible for the crash, we will gather your medical records and calculate your accident-related costs and losses from medical bills, lost income, property damage, and your pain and suffering.
Once we have identified all the parties at fault, we submit demand letters on behalf of our clients to the appropriate insurance companies and press them for full settlements. When the insurers refuse to offer a fair settlement, we file lawsuits and will be prepared to present a persuasive case on your behalf to an Indiana jury.
Contact Our Indiana Truck Accident Attorneys
The dedicated legal team at Craig, Kelley & Faultless LLC has the experience and resources to hold accountable all the potentially responsible parties after a truck accident in a highway construction zone. Our knowledge of truck accident law coupled with thorough accident investigations equip us to pursue each case aggressively and seek maximum compensation for our clients.
We handle truck accident claims on a contingency fee basis. That means that we will only charge you a legal fee if we win your case. Contact us by telephone at 800) 746-0226 or online for a free consultation about your I-70 work zone accident. If you are unable to come to us, we will arrange to meet with you.