Weather-Related Truck Accident Attorney in Indianapolis, IN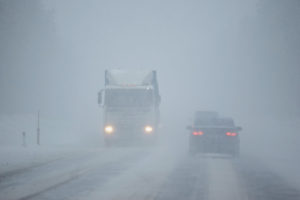 Commercial truck drivers must be on the road in all kinds of weather. But because of the size and configuration of large trucks, the vehicles are at risk of skidding, jackknifing and overturning on slick roads. Federal regulations instruct truck drivers to reduce speed in hazardous conditions and to stop driving "if conditions become sufficiently dangerous."
If you have been injured in a collision with a large truck driving in winter weather or other bad weather, it's possible that the truck driver may be liable for your injuries. You may be able to recover compensation for your medical bills and other expenses if a truck driver was speeding or driving too fast for the weather conditions.
The Indianapolis truck accident attorneys of Craig, Kelley & Faultless LLC can review the truck accident and help you determine whether you have a valid injury claim. Our legal team can build a case for full recovery of compensation when a truck accident was caused by a careless trucker driver or trucking company. Our attorneys have decades of experience representing victims of large truck accidents and their families. Attorneys David Craig and partner Scott Faultless have attained board certification from the National Board of Trial Advocacy in the area of injury law involving tractor trailers, buses and other commercial vehicles. We have the resources to handle complex accidents involving commercial vehicles.
Contact us today for a free review of your case.
Truck Driving Regulations When Driving During Bad Weather Conditions
The Federal Motor Carrier Safety Administration (FMCSA), which regulates the trucking industry, addresses driving large trucks and buses during inclement weather in its regulations at §392.14, Hazardous conditions; extreme caution. The rule details the weather conditions that require extreme caution. It instructs drivers that "speed shall be reduced when such conditions exist."
FMCSA regulations state that if conditions become sufficiently dangerous, the driver is to stop until the commercial motor vehicle can be safely operated.
Adverse Weather Conditions
The regulations cite eight hazardous conditions that adversely affect traction or visibility and require extreme caution:
Snow
Ice
Sleet
Fog
Mist
Rain
Dust
Tractor-trailers and semis are susceptible to high winds because their top-heavy structure makes them more likely to roll over.
In the federal Hours of Service (HOS) regulations, which dictate how many hours a commercial truck driver may spend behind the wheel between rest breaks, the FMCSA makes an exemption for adverse driving conditions. Truckers are allowed up to two hours of additional driving time beyond the normal limits to reach an intended destination or secure location to get off of the road in inclement weather.
Indiana's Commercial Driver's License Manual addresses driving in fog and in winter. Among its instructions for winter weather driving are: "Drive slowly and smoothly on slippery roads. If it is very slippery, you shouldn't drive at all. Stop at the first safe place."
Truck drivers in Indiana should slow down in bad winter weather and other conditions that create unsafe driving. They should get off the road if conditions become sufficiently dangerous. If a trucker should have gotten off of the road, he or she may be held liable for the damage they caused in a truck accident. If a trucker was driving too fast for slick road conditions or following too closely and got into an accident, the driver may be held liable.
Proving Liability for Truck Accidents Caused by Driving in Bad Weather
Truck drivers know they are to slow down in inclement weather and stop their vehicles as soon as it is practical to do so in dangerous weather conditions. Truckers who recklessly fail to follow safe driving practices in bad weather may be held accountable for the accidents caused by their negligence. If we find that a truck driver's employer pushed the driver to stay on the road in bad weather, the trucking company can be held liable for an accident.
If a truck driver failed to adequately reduce their speed in bad weather and subsequently got into an accident, it's likely that there will be evidence to demonstrate their recklessness. Trucks require more distance to stop even in dry weather. Slick roads make a big rig even more difficult to control and stop safely.
A commercial truck's event data recorder (EDR) records acceleration, engine speed, braking and a variety of data that can provide evidence as to what a truck driver was doing just before a collision. As your truck accident attorneys, we can move promptly to investigate the accident and file notice to have the damaged truck, its black box recorder and other records preserved as evidence.
We may find evidence to demonstrate that a truck was moving at an inappropriate speed at the time of a crash such as:
Skid marks. With the length of the skid, the drag factor caused by road surface friction and braking efficiency, investigators can determine the minimum speed the vehicle could have been going when it started skidding.
Vehicle damage. For example, if the bumper or side panel of a car was crushed in a collision, investigators can use the manufacturer's rating for the force that the vehicle's bumper or side panel can withstand to determine the minimum force of the collision, which can be converted to vehicle speed.
Debris pattern. Parts that separate from the vehicles at impact in a crash fall to the ground in a pattern consistent with the dynamics of the crash and their weight and mass. If a fluid container bursts, the fluid is dispersed with the same velocity as the vehicle. So, the pattern of debris on the ground at a crash scene can help investigators understand vehicle movement at impact.
 Roadside damage. Damage to fixed objects, such as guardrails, signposts, and trees can give some idea of the speed and position of the vehicle that struck them. Paint on the damaged area of roadside objects will help distinguish which vehicle came in contact with that object.
If a truck driver contended he or she was on the way to their destination or a safe place to stop in dangerous driving conditions, we would look at such evidence as weather reports that give the time of snowfall, rain, and fog, dispatch logs and recordings of conversations between the trucker and their home office to determine how long the driver stayed on the road. Some truckers stay on the road when the weather gets bad because of delivery deadlines and sometimes they are told to do so by their employers.
An accident in inclement weather may be due to a mechanical failure, such as brakes failing. Winter weather requires a truck driver to constantly check tires, engine parts, electrical parts and other systems on their rigs to make sure their trucks are functioning properly. In fact, FMCSA regulations require a variety of daily checks of the vehicle to avoid mechanical failures that cause accidents.
When truckers are negligent in their duty to ensure a truck's safe operating condition, or routine maintenance is delayed to save money, the trucker, the trucking company and contracted maintenance providers may be held liable for an accident.
There are numerous reasons a truck driver may crash while driving in bad weather in Indiana. What is crucial is to contact an experienced Indianapolis truck accident attorney as soon as possible if you have been injured in a truck accident. Our attorneys can move promptly to secure evidence necessary to substantiate a claim that the truck driver or other parties were negligent. We will document the costs and losses you have suffered.
When necessary, we work with truck accident reconstruction specialists to pinpoint exactly how a semitruck accident happened. The accident reconstruction specialist can provide compelling testimony to support your claim for compensation to you. We aggressively press insurance companies to pay you the settlement you deserve or proceed to court with a strong and persuasive lawsuit for judge and jury to hear.
Contact Our Indiana Attorneys About a Weather-Related Truck Accident
The legal team at Craig, Kelley & Faultless LLC has the skills, experience and resources necessary to investigate a truck accident that was caused by a trucker's lack of caution or a truck's mechanical failure in inclement weather. Our law firm has successfully handled numerous commercial motor vehicle accident claims for clients in Indianapolis, Batesville, Fort Wayne, Richmond and throughout Indiana.
Contact us as soon as possible so that we may secure the evidence needed to prove why the accident occurred and identify all parties that should be held responsible for what you have been put through.
Phone us now at (800) 746-0226 or contact us online to set up a free consultation about the truck accident you were injured in and how we can help you.