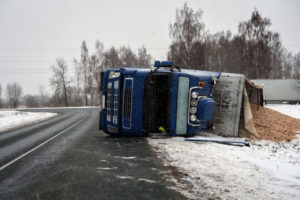 Two recent dump truck accidents in Indiana that resulted in multiple deaths may make people wonder who is responsible when such tragedies occur. The initial answer is that our attorneys often find negligence on the part of the truck driver when we investigate truck accidents. But others may be at fault as well. There may be multiple parties that share liability after someone is hit by a dump truck or another commercial vehicle. It's not always obvious at the accident scene.
In February, a truck driver died when his dump truck was hit by a train at a crossing in Summitville. In April, a pregnant woman and her 3-year-old child were killed and another child was injured when the woman failed to yield the right of way to a dump truck in Kendallville.
So, it's not always the truck driver's fault. If the cause of a truck accident that took your loved one's life is not readily apparent, you may need an independent investigation by a knowledgeable attorney to determine whether your family is entitled to seek restitution.
At Craig, Kelley & Faultless LLC, we have an investigative team to determine liability in truck accidents. It includes two of our partner attorneys, a private investigator, a truck mechanic, a computer tech qualified to analyze a truck's "black box" data recorder and other technology on commercial trucks, and an accident reconstructionist. Our dump truck accident attorneys help clients who have been injured by others' negligence or who have lost loved ones in fatal truck accidents pursue compensation from those who caused the crash.
We investigate truck accidents in Indiana thoroughly and prepare each case carefully with the goal of recovering maximum compensation for our clients. If you think we might help you, contact us online or at (800) 746-0226 for a free consultation.
How Do Dump Truck Accidents Occur?
Dump trucks are heavy-duty vehicles that weigh as much as 30,000 pounds and haul loose materials such as sand, gravel, crushed stone, grain, and debris. Because of their massive size, dump trucks typically cause serious injuries and extensive damage in collisions with other vehicles.
Dump truck drivers in Indiana must have a commercial drivers' license, but it is experience and attention to the road and the way the trucks handle that makes dump truck drivers safe stewards of these massive vehicles and the cargo they haul.
The common causes of dump truck accidents that we have encountered over the years include:
Failure to stop. When hauling a heavy load, dump trucks need much longer distances to stop than passenger cars. A dump truck may barrel through an intersection and run a red light if the driver doesn't anticipate the traffic light changing and start slowing the vehicle well in advance. Wet or icy roads can also create slippery conditions that contribute to accidents if truckers fail to operate at a safe speed. Inexperienced or inattentive drivers or speeding truck drivers who fail to brake soon enough at an intersection or reduce speed in a road construction work zone may plow into slowed or stopped vehicles ahead of them.
Large blind spots. Limited visibility around the truck is a common issue for dump truck drivers and a contributing factor in many truck accidents. Vehicles to the side of a dump truck or behind a truck when a driver is backing up are often not visible to the truck driver.
Loose loads. Cargo in an open-top dump truck is not secured as well as it is on an enclosed tractor-trailer. In some cases, it is not even covered. Loose cargo that shifts can make the truck become unbalanced and susceptible to tipping or rolling over. Uncovered cargo can blow off or fall from the truck and cause accidents among other drivers.
Negligence. In many dump truck accident investigations, we find that the truck driver made a careless decision that led to the crash. Dump trucks are often involved in intersection accidents due to failure to stop. Many truck accidents are caused by speeding, unsafe lane changes, following too closely, or a combination thereof. Unsafe backing – often exacerbated by blind spots – is another common cause of dump truck accidents, particularly on work sites. Some dump truck accidents are caused by drivers who are driving while impaired by alcohol or drugs including certain prescription and over-the-counter medications.
Who May Be Liable for a Dump Truck Accident?
Multiple parties may be held financially liable for a dump truck accident in which the truck driver is a fault. To hold a party liable, our investigation would have to show some negligence on the driver's part that contributed to the accident. The dump truck driver is typically liable for any injuries the truck causes while the driver is operating the truck. Others that may have contributed to the accident include:
Trucking company. An employer is responsible for accidents caused by employees while they are performing assigned job duties. Sometimes a trucking company will claim its drivers are independent contractors and therefore the company is not liable for their actions. This can easily be proven false if it is untrue, and we will hold the trucking company accountable for its driver's negligence.
Worksite Dump trucks often haul goods between work sites or refuse away from work sites, such as construction and demolition projects. If the accident occurred on a worksite and its owners had failed to establish rules for when and how items could be dumped or loaded at the site, the site owners might be liable for the accident. If a dump truck accident happened in a highway work zone that was improperly designed and/or operated, the contracting company and/or local government in charge of it might be held liable.
Garage or manufacturer. Some dump truck accidents are found to be caused by the commercial vehicle's manufacturing defect or to negligent maintenance. If the truck's brakes fail to function due to lax maintenance, and the truck owner contracted maintenance out to a third party, that vendor may be liable for the accident. If the accident was caused by a truck component that failed due to a manufacturing flaw (tires, brakes, steering system) a product liability lawsuit against the manufacturer may be appropriate.
Contact a Fatal Dump Truck Accident Attorney in Indiana
The dedicated truck accident attorneys at Craig, Kelley & Faultless LLC in Indianapolis have the experience and skills to identify all the responsible parties after a fatal dump truck accident. Once the liable parties are identified, our attorneys will negotiate aggressively to seek full compensation for medical expenses, funeral and burial costs, lost income, pain and suffering, and more. We will be prepared to seek justice for your family in court if necessary.
We pursue fatal truck accident claims on a contingency fee basis, meaning that we only get paid after we recover money for you. Contact us by telephone at (800) 746-0226 or online today for a free consultation about your accident.

Since 1999 the Indianapolis legal team at Craig, Kelley & Faultless, LLC have been dedicated to helping individuals and their families who have been injured or have lost a loved one as the result of someone's carelessness. The firm was founded by three attorneys, David Craig, William 'BJ' Kelley II and Scott Faultless, since then they have added attorneys and legal professionals to the team and opened four additional office locations to better serve their clients.