Proving Fault in Construction Zone Truck Accidents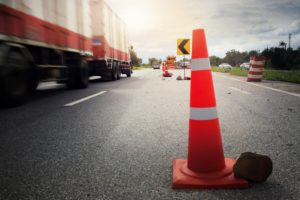 Were you injured in a collision with a truck in a highway construction zone? If so, you may be entitled to seek compensation for your medical bills and related expenses from the truck driver's insurance. It is a good idea to contact an experienced truck accident lawyer right away to understand your rights and the options available to you.
Construction zone truck accidents could involve multiple potentially liable parties including government agencies, highway contractors, and other workers. Because claims involving road work zones and commercial trucks can be more complicated to pursue than an automobile accident, it is crucial to turn to a skilled truck accident attorney to help identify all the at-fault parties and hold them accountable.
When the attorneys at Craig, Kelley & Faultless handle a truck accident case, we move quickly to examine the semi for any mechanical problems and get access to the truck's black box data recorder which may hold important evidence. Our legal team has investigated many truck accidents. We know what evidence to seek to identify who is at fault in a construction zone accident.
How to Show Fault in a Truck Accident
To prove that a commercial truck driver or other party was at fault and is financially liable for your injuries and other losses, you'll have to prove the elements of negligence.
This requires establishing that:
The party owed you a duty of care to act with reasonable safety
The party failed to fulfill that responsibility
That breach of duty caused the construction zone crash
The crash caused you harm and quantifiable losses
Since 1999, the highly regarded Indiana truck accident attorneys of Craig, Kelley & Faultless have fought for the rights of people injured in construction zone truck crashes and other accidents.
We have five offices located throughout Indiana, including in Indianapolis, Batesville, Connersville, North Vernon, and Richmond to make access to experienced legal representation more convenient. If you have been injured in a construction zone truck accident, contact us for a free case review. We can review the circumstances of the accident and discuss how we can prove who is at fault for your injuries.
Duty of Care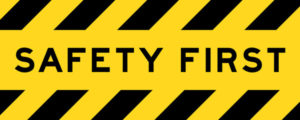 The duty-of-care element refers to an individual's legal obligation to act with reasonable care while engaging in acts that could foreseeably harm others. For example, drivers including truck drivers should comply with the reduced speed limit in a highway construction zone to avoid accidents.
In most construction zone accident cases, establishing the other party's duty of care does not represent a difficult task. Operators of motor vehicles owe a duty to the public at large to operate their vehicles in a safe, cautious manner and obey all applicable traffic laws and regulations.
When a commercial truck is involved in an accident, the truck driver or the trucking company may be at fault. The driver may be liable for failing to operate the truck safely or following applicable laws or regulations. The trucking company may be responsible for the actions of its drivers.
Identifying the specific duty of care serves as an important foundation for the rest of your construction zone truck accident claim. The duty may arise from traffic laws, or from general obligations such as maintaining a vehicle in good working order, or from state or federal regulations governing the trucking industry such as driver hours-of-service limitations.
Breach of Duty
To develop a persuasive construction zone accident case, our attorneys will seek evidence to prove that the truck driver and/or trucking company failed to comply with their legal responsibility to operate the truck safely. This requires establishing what the truck driver or trucking company did or failed to do that caused the work zone accident.
For example, was the truck driver breaking traffic laws by speeding in a construction zone? Was the driver distracted by looking at a cell phone? Did the truck driver make a mistake due to fatigue after being behind the wheel longer than permitted by federal trucking regulations? Did the truck suffer a mechanical problem such as a brake failure because the trucking company failed to perform required inspections and maintenance on the vehicle?
If the truck driver broke the law, or if the driver failed to behave in a way that another responsible driver with a CDL license would, the driver may have violated the responsibility to drive safely and protect you and others on the road from harm. If the trucking company ignored proper hiring and training practices, safety regulations, or vehicle maintenance, the company could be proven to be negligent.
Causing a Construction Zone Accident
You must show that the at-fault party or parties' breach of their legal responsibilities caused the construction zone accident and your injuries.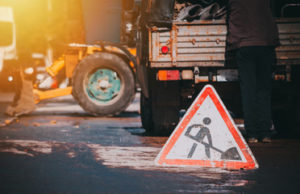 Proving this can be straightforward in many cases. But not all breaches of duty result in an accident—especially when there are multiple actors who may have breached their duties of care. In some cases, other circumstances can make it more difficult to establish that the truck driver or trucking company's breach of duty caused the accident and your injuries.
For example, you might have been sideswiped by a truck that veered into your lane. But perhaps the truck driver veered into your lane because a construction zone lane merger was not properly marked or a piece of construction equipment suddenly moved into the truck's path, requiring the driver to swerve to avoid a collision. In that case, the contractor that designed the construction zone may be liable as well.
In many cases, proving how a construction zone accident occurred and who is at fault requires relying on testimony from accident reconstruction experts. Accident reconstruction specialists can review the physical and photographic evidence and eyewitness testimony from a construction zone truck accident and, using their knowledge and experience, offer an opinion about how the accident occurred. Our law firm works with nationally recognized specialists in accident reconstruction.
Quantifiable Losses
Finally, to recover compensation after a construction zone truck accident, you will need to prove that you suffered injuries and losses that can be calculated or quantified. If you suffered personal injuries, you will likely be capable of establishing some amount of economic loss from medical bills and lost wages or income, in addition to losses arising from property damage such as damage to your vehicle.
However, when you have been physically injured, you also may be entitled to seek compensation for pain and suffering, reduced quality of life, or your family's loss of your companionship and society due to your injuries. Unlike economic damages like medical expenses, vehicle damage, or lost income, no bills or invoice can prove the extent of these intangible, non-economic losses.
Instead, you would typically need to rely on other evidence, such as the severity of your injuries and the testimony of your family, friends, and co-workers about how the accident and your injuries have impacted your life.
After you have been injured in a construction zone truck accident, an Indiana truck accident lawyer from Craig, Kelley & Faultless can help you prove the liability of those at fault.
Truck Accident Lawyer Can Help You by:
Conducting a thorough investigation of the crash to preserve evidence that we can use to build a persuasive case.
Taking the time to speak with you to understand your needs and goals so that we craft a legal strategy tailored to pursuing the results you hope to achieve.
Handling your truck accident claim on a contingency fee basis. You do not need to pay upfront legal fees or out-of-pocket case expenses when you are facing financial pressures due to your injuries.
Making ourselves available to you, including providing you with our attorneys' mobile phone numbers, so that you always have access to us to get answers to your questions and updates on the progress of your case.
Utilizing a team approach so that truck benefits from the collective knowledge and experience of our entire law firm.
Aggressively pursuing your claim against the trucking companies and their insurers.
Negotiating for an out-of-court settlement that provides you with full compensation while preparing your case thoroughly to go to trial if necessary. Our case preparation shows insurance companies that we will not back down.
If you have been injured in a construction zone truck accident in Indiana, get our experienced legal team on your side to start the process of proving who is at fault for the accident. Our attorneys will identify who is at fault and aggressively pursue your claim to seek the financial compensation you need to move forward with your life.
Contact Craig, Kelley & Faultless by calling us at (800) 746-0226 or reaching out to us online today for a free, no-obligation consultation. Our Indiana truck accident lawyers will be ready to discuss the specifics of your case and how we may help you seek the fair compensation you are owed.