What Clients Need to Know about Personal Injury Legal Assistance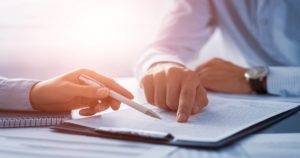 A serious accident can disrupt your life and cause stress about paying bills and anxiety about the future. Working with a law firm to recover just compensation for your injuries should not add to your stress level, frustration and uncertainty. You should have confidence that the law firm is addressing your concerns.
Some law firms don't focus on what the client is experiencing as a personal injury case proceeds. At Craig, Kelley & Faultless, we understand the client's experience throughout the legal process is just as important as the results. Clients deserve personal attention and trusted guidance.
A serious personal injury case is a lengthy process. Throughout the process, you want a lawyer who will treat you with respect and courtesy— just as they would want their own loved ones to be treated in a similar situation.
Craig, Kelley & Faultless is a highly regarded Indianapolis law firm that handles personal injury cases including commercial truck accidents throughout Indiana and the Midwest. The attorneys at Craig, Kelley & Faultless are passionate, fearless and experienced advocates. David Craig, William J. Kelley and Scott Faultless have all been selected multiple times by their legal peers for inclusion in The Best Lawyers in America® in the practice area of personal injury litigation. If you or a loved one has been injured, let us evaluate how we can help you.
What Makes Our Law Firm Different
When people contact Craig, Kelley & Faultless to discuss a personal injury accident, the caller will receive an appointment to speak with an experienced attorney. Some law firms use non-lawyers for the initial consultation.
Craig, Kelley & Faultless knows that it is in the best interest of prospective clients to receive guidance from an experienced attorney. When people call a law firm to discuss a legal matter, they generally want to speak to an attorney and they should. The initial consultation to discuss the client's options is free and carries no obligation.
We want to provide answers to your questions and help you understand whether you have a valid personal injury lawsuit.
What Happens When You Begin Working with Craig, Kelley & Faultless – Personal Injury Lawyer in Indianapolis
Once a client retains Craig, Kelley & Faultless, the client's case receives immediate attention. Processes are in place for expedited handling of all new cases.
Managing partner David Craig reviews the case file within 24 hours and makes decisions about what actions need to be taken promptly. He decides whether spoliation letters need to be sent out to preserve evidence before it is lost. He decides whether it is in the client's best interest to file a lawsuit right away.
Depending on the facts of the accident, Craig may assign investigators to the scene to search for security cameras that might have captured what occurred. It's important to move quickly to obtain and download security camera videotape before it is taped over. Finding security camera footage requires a prompt investigation.
Craig assembles a team to handle the case and introduces the client to the team. The team includes two attorneys and a file manager who keeps in contact with the client and checks on the progress of the client's medical treatment. Each team includes a client navigator whose job is to check in with the client throughout the legal process to make sure the client's needs are being met.
The recovery from lingering physical injuries after a serious accident can be time-consuming. How long a personal injury case will take depends in part on how long it takes the accident victim to recover from his or her injuries. Only then can an accurate assessment be made of the victim's medical expenses and losses connected to the accident. A settlement should reflect the full extent of the victim's losses.
A serious case is going to be a long process. You need to pick a law firm that will treat you right and is grateful to have you as a client.
At Craig, Kelley & Faultless, our attorneys and staff show compassion for others. We understand that it's a privilege to use our legal skills to assist injured people in need of help. We work as a team to utilize each team member's strengths. We treat clients the way we would want to be treated when seeking assistance.
Why You Should Hire an Indiana Law Firm Instead of a Nationwide Firm
People in Indiana searching online for a personal injury law firm may see ads placed by national law firms. National law firms may not have an office in Indiana or be admitted to practice in Indiana. In that situation, they will need to hire a firm licensed to practice in the state to handle the case. That may cause delays in pursuing the case. Clients should be careful about whether they are hiring an Indiana law firm or a national firm.
A national firm may not file a lawsuit right away, even when it would be in the client's best interest to do so. Headquartered in another state, a national law firm may not have a law license in Indiana. They are not necessarily going to be familiar with applicable Indiana law. In order to proceed, the national law firm will need to hire a local law firm that is licensed to practice in the state.
At Craig, Kelley & Faultless, we know the law in Indiana as well as Kentucky, Ohio, Illinois and Missouri, the states where our lawyers are licensed to practice. We have offices in Indianapolis, Batesville, Connersville, Richmond and North Vernon.
There are nuances to Indiana law. If you practice in the state, you are going to know which courts to file in. There is an advantage to working with local lawyers who are licensed and practice in the state and know the applicable state laws.
National law firms generally are looking to settle cases. Craig, Kelley & Faultless regularly takes cases to trial. That's an important distinction. Craig, Kelley & Faultless has accomplished trial attorneys who are ready to fight for our clients in court and have a strong record of success.
Our attorneys will seek to negotiate with the insurance company for a just settlement. While we are successful in settling the majority of cases, our attorneys understand the importance of being willing to take a case to trial to achieve the best results for the client. Insurance companies are more likely to agree to pay the full value of a claim to settle a case if they know they will have to go to trial otherwise.
At Craig, Kelley & Faultless, the decision about whether to go to trial is up to the client. Our attorneys will offer advice about whether a settlement offer is reasonable based on the specific facts of the case and our decades of experience litigating personal injury cases. The client decides whether to settle or go to trial.
Contact Indianapolis Personal Injury Attorney
We established Craig, Kelley & Faultless in 1999 with the goal of caring for personal injury victims and providing exceptional legal service. Those goals still inform our approach to serving clients two decades later. What you need to know as a client of Craig, Kelley & Faultless is that we are committed to serving your best interests every step of the way. We never represent insurance companies or defend people who cause accidents. Our team of experienced personal injury attorneys works to help make sure that each client receives the compassionate legal representation that we would want our own loved ones to receive.
With five offices across Indiana and a team of experienced attorneys, Craig, Kelley & Faultless has the resources and commitment to pursue your personal injury case. If you or your loved one has been seriously injured, take a look at the comments of former clients who were facing difficult situations similar to yours. Call 800-746-0226 or contact us online to schedule a free consultation with an experienced attorney to discuss how we may be of service to you and your family.